SUMMARY
Title: Blood Scion
Genre: Fiction
Author: Deborah Falaye
Publisher: Harper Collins
Year of Publication: 2022
Number of Pages: 432
ISBN:9780062954046
Reviewer: Testimony Akinkunmi
Blood Scion review
Blood Scion creates a fantasy world of blurred morality and over aching injustice.
Despite her dead mother's attempt to give Sloane a chance to start life with a clean slate. She fails. Her Yoruba identity means her death, but it will only get worse for everyone around her when her Scion identity is recognized.
Deborah Falaye tells this incredible Yoruba-based mythology story brilliantly and tearfully. That we surrender and try to see ourselves in the character's shoes. 
Blood Scion has some trigger warnings. It is heavily character-driven, and Sloane makes it emotional and real. The dilemma where she had to decide whether to kill her friend since childhood or be killed is something a fifteen year should never be asked to choose. And with that act, though, she becomes a murderer. 
'Once again, I must sacrifice others to save myself, trade their lives for my own freedom.'
Sloane's story isn't that way. Her character makes us root for her, wishing that, with the new friends she would get in the camp, she would be able to kill the royals and escape to the lands beyond. And happily ever after. 
She would have to decide what matters most: her humanity or survival. She could never have both.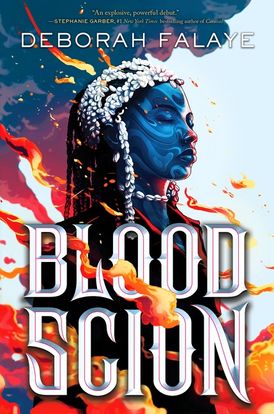 The choice of language in Blood scion is a big improvement from other Yoruba fantasies published in America in recent years. When the characters speak, there is strong linguistic and emotional support for what they are saying.
"A little too late for that, don't you think? I have no use for your apology, Sloane. I just want you to pay for what you've done. It's the only way to make it right."
When Malachi speaks here, we see him as a vengeance stalker and hurt orphan. It is a painful recollection.
The ancestors are fucking with me.
Preying on my vulnerability.
This sentence shows a rare sample of American English in a well-balanced linguistic diction. Deborah Falaye prostitutes the English language and hails the Yoruba linguistic catalog.
This book is for you if you want to know more about bloody betrayal, spiritual incantations, and how what is wrong might be the best option.
Note: Trigger warnings are laced across the text.
About the Author
Deborah Falaye is a young adult novelist from Nigeria who lives in Canada. She grew up in Lagos, Nigeria, where she devoured African literature, pestered her grandmother for folktales, and tricked her grandfather into watching Passions every night. When she's not writing about powerful Black heroines with badass powers, she's obsessed with reality TV. Deborah presently resides in Toronto with her husband and their Yorkie companion in crime, Major. Her debut novel is Blood Scion.